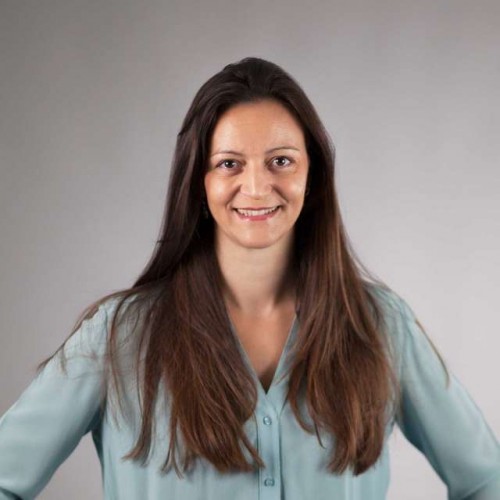 Università della Svizzera italiana (USI)
Faculty of Informatics (SI-108)
Via G. Buffi 13
6900 Lugano, Switzerland

phone:
email:
Silvia Santini is an Associate Professor at the Faculty of Informatics of USI since September 2016. From July 2014 until August 2016, Silvia held an Associate Professor position at TU Dresden, where she led the Embedded Systems Lab. From October 2011 until July 2014 she was an Assistant Professor at the Department of Electrical Engineering and Information Technology of TU Darmstadt, Germany, where she led the Wireless Sensor Networks Lab. Previously, from 2009 until 2011, she was a postdoctoral researcher in Prof. Friedemann Mattern's Distributed Systems Group at the Department of Computer Science of ETH Zurich, Switzerland. From November 2010 until February 2011 she joined Leonidas Guibas's research group at Stanford University as a visiting scholar. Silvia completed her PhD Thesis under the supervision of Prof. Friedemann Mattern at ETH Zurich in 2009 and graduated in Telecommunication Engineering (with honors) from the Sapienza University of Rome, Italy, in May 2004.
Publications
2019
Tao Li, Silvia Santini (2019) Energy-aware Coflow and Antenna Scheduling for Hybrid Server-Centric Data Center Networks, IEEE Transactions on Green Communications and Networking, p. 1-1, url, doi:10.1109/TGCN.2019.2896298

Shkurta Gashi, Elena Di Lascio, Silvia Santini (2019) Using Unobtrusive Wearable Sensors to Measure the Physiological Synchrony Between Presenters and Audience Members, Proc. ACM Interact. Mob. Wearable Ubiquitous Technol. 3, 1, Article 13, p. 19, url, doi:10.1145/3314400

Elena Di Lascio, Silvia Santini, Shkurta Gashi, Danilo Krasic () In-Classroom Self-Tracking For Teachers and Students: Preliminary Findings from a Pilot Study, url, doi:10.1145/3123024.3125504

2018
Bettina Wagner, Christian Ginzler, Anton Bürgi, Silvia Santini, · Holger Gärtner (2018) An annually-resolved stem growth tool based on 3D laser scans and 2D tree-ring data 32, p. 125-136, url, doi:10.1007/s00468-017-1618-3

Bettina Wagner, Silvia Santini, Hilmar Ingensand, Holger Gärtner () A tool to model 3D coarse-root development with annual resolution, url, doi:10.1007/s11104-011-0797-8

Wilhelm Kleiminger, Silvia Santini, Friedemann Mattern () Simulating the energy savings potential in domestic heating scenarios in Switzerland, pdf

2018
Liliana Barrios, Pietro Oldrati, Silvia Santini, Andreas Lutterotti (2018) Recognizing Digital Biomarkers for Fatigue Assessment in Patients with Multiple Sclerosis, url

Elena Di Lascio, Shkurta Gashi, Silvia Santini (2018) Unobtrusive Assessment of Students' Emotional Engagement during Lectures Using Electrodermal Activity Sensors, Proc. ACM Interact. Mob. Wearable Ubiquitous Technol 2(103), p. 21, url, doi:10.1145/3264913

Shkurta Gashi, Elena Di Lascio, Silvia Santini () Using Students' Physiological Synchrony to Quantify the Classroom Emotional Climate, url, doi:10.1145/3267305.3267693

2015
Martina Brachmann, Dennis Becker Germany, T U Darmstadt, Silvia Santini (2015) Poster Abstract: Towards Enabling Concurrent Transmissions in Heterogeneous Networks, url, doi:10.1145/2737095.2737164

Paul Baumann, Johannes Klaus, Silvia Santini () Locator: A Self-adaptive Framework for the Recognition of Relevant Places, url, doi:10.1145/2638728.2638751

2013
Wilhelm Kleiminger, Christian Beckel, Thorsten Staake, Silvia Santini (2013) Occupancy Detection from Electricity Consumption Data, url, doi:10.1145/2528282.2528295

Wilhelm Kleiminger, Silvia Santini, Friedemann Mattern () Smart heating control with occupancy prediction: How much can one save?, url, doi:10.1145/2638728.2641555

Paul Baumann, Johannes Klaus, Bjoern Richerzhagen, Wilhelm Kleiminger, Silvia Santini () The UbiDCC Data Set: Collecting Wi-Fi and Bluetooth Scans During a Large-scale Conference, url, doi:10.1145/2820716.2820721

Andreas Reinhardt, Olivia Morar, Silvia Santini, Sebastian Zöller, Ralf Steinmetz () CBFR: Bloom Filter Routing with Gradual Forgetting for Tree-structured Wireless Sensor Networks with Mobile Nodes, pdf

Silvia Santini, Kay Römer () An Adaptive Strategy for Quality-Based Data Reduction in Wireless Sensor Networks, pdf

Silvia Santini, Robert Adelmann, Marc Langheinrich, Georg Schätti, Steven Fluck () JSense-Prototyping Sensor-Based, Location-Aware Applications in Java, pdf

Luca Filipponi, Silvia Santini, Andrea Vitaletti () Data Collection in Wireless Sensor Networks for Noise Pollution Monitoring, pdf

Silvia Santini () Using Adaptive Sensor Ranking to Reduce the Overhead of the Coverage Configuration Protocol, pdf

Silvia Santini, Benedikt Ostermaier, Robert Adelmann () On the Use of Sensor Nodes and Mobile Phones for the Assessment of Noise Pollution Levels in Urban Environments, url

Daniele Puccinelli, Omprakash Gnawali, Sunhee Yoon, Silvia Santini, Ugo Colesanti, Silvia Giordano, Leonidas Guibas () The Impact of Network Topology on Collection Performance, pdf

Ugo Maria Colesanti, Silvia Santini, Andrea Vitaletti () DISSense: An Adaptive Ultralow-power Communication Protocol for Wireless Sensor Networks, pdf

Wilhelm Kleiminger, Christian Beckel, Silvia Santini () Opportunistic Sensing for Efficient Energy Usage in Private Households, url

Christian Beckel, Leyna Sadamori, Silvia Santini () Automatic Socio-Economic Classification of Households Using Electricity Consumption Data, url

Paul Baumann, Wilhelm Kleiminger, Silvia Santini () The Influence of Temporal and Spatial Features on the Performance of Next-place Prediction Algorithms, url, doi:10.1145/2493432.2493467

Christian Beckel, Wilhelm Kleiminger, Romano Cicchetti, Thorsten Staake, Silvia Santini () The ECO Data Set and the Performance of Non-Intrusive Load Monitoring Algorithms, url, doi:10.1145/2674061.2674064

Paul Baumann, Silvia Santini, Christian Koehler, Anind Dey () Analyzing the Influence of Phone Context Data on the Performance of Human Mobility Predictors, url

Wilhelm Kleiminger, Christian Beckel, Silvia Santini () Household Occupancy Monitoring Using Electricity Meters, url, doi:10.1145/2750858.2807538

Paul Baumann, Marc Langheinrich, Anind K Dey, Silvia Santini () Quantifying the Uncertainty of Next-Place Predictions, url

Tao Li, Hani Salah, Xin Ding, Thorsten Strufe, Frank H P Fitzek, Silvia Santini () INFAS: In-Network Flow mAnagement Scheme for SDN Control Plane Protection, pdf

2013
Martina Brachmann, Silvia Santini (2013) Towards the benchmarking of ultra-low latency communication protocols for wireless sensor and actuator networks, Proceedings of the 11th ACM Conference on Embedded Networked Sensor Systems, p. 55, ACM

Iliya Gurov, Pablo Ezequiel Guerrero, Martina Brachmann, Silvia Santini, Kristof Van Laerhoven, A Buchmann (2013) A site properties assessment framework for wireless sensor networks, Proceedings of the 11th ACM Conference on Embedded Networked Sensor Systems, p. 32, ACM

Philipp M Scholl, Brahim El Majoub, Silvia Santini, Kristof Van Laerhoven (2013) Connecting wireless sensor networks to the robot operating system, Procedia Computer Science 19, p. 1121-1128, Elsevier

Christian Beckel, Wilhelm Kleiminger, Thorsten Staake, Silvia Santini () Improving Device-level Electricity Consumption Breakdowns in Private Households Using ON/OFF Events, url

Christian Beckel, Leyna Sadamori, Thorsten Staake, Silvia Santini () Revealing Household Characteristics from Smart Meter Data, url

Wilhelm Kleiminger, Friedemann Mattern, Silvia Santini () Predicting household occupancy for smart heating control: A comparative performance analysis of state-of-the-art approaches, url

2011
Ugo Colesanti, Silvia Santini (2011) The Collection Tree Protocol for the Castalia Wireless Sensor Networks Simulator, url

Benedikt Ostermaier, Matthias Kovatsch, Silvia Santini (2011) Connecting Things to the Web using Programmable Low-power WiFi Modules, url

Christian Beckel, Leyna Sadamori, Silvia Santini () Towards Automatic Classification of Private Households Using Electricity Consumption Data, url

Pablo E Guerrero, Iliya Gurov, Silvia Santini, Alejandro Buchmann () On the Selection of Testbeds for the Evaluation of Sensor Network Protocols and Applications, url

Viktor Kolokolov, Paul Baumann, Silvia Santini, Stefan T Ruehl, Stephan A W Verclas () Flexible Development of Variable Software Features for Mobile Business Applications, url, doi:10.1145/2499777.2500712

2010
Ugo Colesanti, Silvia Santini (2010) A Performance Evaluation Of The Collection Tree Protocol Based On Its Implementation For The Castalia Wireless Sensor Networks Simulator, url

Martina Brachmann, Silvia Santini () Poster Abstract: Towards the Benchmarking of Ultra-Low Latency Communication Protocols for Wireless Sensor and Actuator Networks, url

Paul Baumann, Wilhelm Kleiminger, Silvia Santini () How Long Are You Staying? Predicting Residence Time from Human Mobility Traces, url, doi:10.1145/2500423.2504583

Alexander Bernauer, Kay Römer, Silvia Santini () Poster Abstract: Threads for the Programmer, Events for the Machine, pdf

Wilhelm Kleiminger, Silvia Santini, Markus Weiss () Opportunistic Sensing for Smart Heating Control in Private Households, pdf

Silvia Santini () tinyLAB: A Matlab-Based Framework for Interaction with Wireless Sensor Networks, url

Silvia Santini, Daniel Rauch () Minos: A Generic Tool for Sensor Data Acquisition and Storage, url

Silvia Santini, Andrea Vitaletti () Wireless Sensor Networks for Environmental Noise Monitoring, url

Silvia Santini () Poster Abstract: Towards Adaptive Wireless Sensor Networks, url

Wilhelm Kleiminger, Christian Beckel, Anind Dey, Silvia Santini () Poster Abstract: Using Unlabeled Wi-Fi Scan Data to Discover Occupancy Patterns of Private Households, url

2010
Alexander Bernauer, Kay Römer, Silvia Santini, Junyan Ma (2010) Threads2Events: An Automatic Code Generation Approach, pdf

Alexander Bernauer, Kay Römer, Silvia Santini (2010) Threads for the Programmer, Events for the Machine, Adjunct Proceedings of the 7th European Conference on Wireless Sensor Networks (EWSN 2010), p. 77-79, 7th European Conference on Wireless Sensor Networks (EWSN 2010)

2009
Ugo Maria Colesanti, Silvia Santini (2009) Report on an exchange visit funded by PerAda

2008
Silvia Santini, Benedikt Ostermaier, Andrea Vitaletti (2008) First Experiences Using Wireless Sensor Networks for Noise Pollution Monitoring, url

Silvia Santini, Ugo Colesanti () Adaptive Random Sensor Selection for Field Reconstruction in Wireless Sensor Networks, url

2008
Silvia Santini, Kay Roemer, Paul Couderc, Pedro Marron, Daniel Minder, Thiemo Voigt, Andrea Vitaletti (2008) System architectures and programming models, Cooperating embedded systems and wireless sensor networks, p. 347-404, ISTE London, UK

Silvia Santini, Benedikt Ostermaier, Andrea Vitaletti (2008) First experiences using wireless sensor networks for noise pollution monitoring, Proceedings of the workshop on Real-world wireless sensor networks, p. 61-65, ACM

2006
Silvia Santini (2006) Towards adaptive wireless sensor networks, 3rd European Workshop on Wireless Sensor Networks (EWSN 2006), p. 13-15, unknown